Avtainer 2311 Series Fastener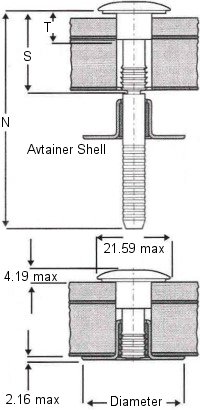 Description
High quality 2311 series Avdel fasteners designed for joining plywood or glass reinforced plastics to metal framing without damaging the materials or pulling the composition.
Bolt Size
10.0mm (3/8")
Head Form
Low Profile Head
Material
Pin & Shell made from zinc plated low carbon steel.
Seal made from natural finish Nylon.
Locking Slug made from natural finish Polyester Elastomer.
Benefits
Vibration and moisture resistant
Suitable for varying hole tolerances
Prevents cracking and pull through of composite materials
High shear strength for high strength assembly
Underhead Santoprene seal provides a water/air tight joint
Internally locked stem provides a secure, vibration resistant joint
Low profile head and shell give neat apprearance
Quick to install
Easy to inspect for tampering
TIR Approved
| Grip Range | Dim 'N' | Dim 'S' | Dim 'T' | Part Number |
| --- | --- | --- | --- | --- |
| 12.70mm - 15.87mm | 56.9mm | 14.3mm | n/a | 2311-1209 |
| 14.27mm - 17.45mm | 56.9mm | 15.9mm | n/a | 2311-1210 |
| 15.87mm - 19.05mm | 58.4mm | 17.5mm | 4.6mm | 2311-1211 |
| 17.45mm - 20.62mm | 60.2mm | 19.0mm | 6.1mm | 2311-1212 |
| 19.05mm - 22.22mm | 61.7mm | 20.6mm | 7.9mm | 2311-1213 |
| 20.62mm - 23.80mm | 63.2mm | 22.2mm | 9.4mm | 2311-1214 |
| 22.22mm - 25.40mm | 64.8mm | 23.8mm | 10.9mm | 2311-1215 |
| 23.80mm - 26.97mm | 66.5mm | 25.4mm | 12.5mm | 2311-1216 |
| 25.40mm - 28.57mm | 75.9mm | 27.0mm | 14.2mm | 2311-1217 |