Mini Box Corner Castings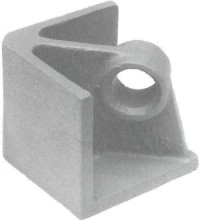 Description
Mini box corner fitting made in one piece to overcome problems with fabricated designs. Made from special steel designed for low temperature working at -40°C.
Suitability
Off-shore and mini containers.
Angled or vertical lift slings.
Key Features and Benefits
Flush walls allow cost effective manufacture by using square cut rails and posts.
Flush walls allow simple repair of container frames.
One piece casting overcomes inconsistencies with weld fabrication designs.
Robust design ensures long life.
Design allows stacking of containers.
Casting Size
115mm x 115mm x 102mm.
Weight
4.2kg (9.2 lbs).
Safe Working Load
3250kg.
Drawing
View mini box casting drawing and specifications.
Part Number
2999