3M Dust Masks (8710E)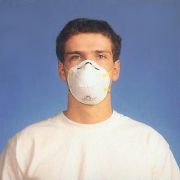 Description
3M protective respirator (8710E).
Protection
Mask provides respiratory protection against fine dust particles.
Key Features and Benefits
This face mask has a durable collapse-resistant inner shell.
These protective face masks are designed with a convex shape, nose clip and twin straps to ensure an excellent fit over a wide range of face sizes.
These dust masks have a comfortable, lightweight off-the-face design.
Maintenance free respirators.
Conforms to standard EN149:2001 FFP1.