3M Dust and Mist Respirators (8822)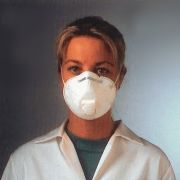 Description
3M Dust & Mist Respirator with Cool Flow Valve (8822).
Protection
3M dust mask provides respiratory protection against fine dust particles, oil or water-based mists.
Key Features and Benefits
Fitted with 3M Cool Flow valve which reduces heat build up to offer comfortable protection, particularly in hot and humid conditions.
This 3M face mask has a durable collapse-resistant inner shell.
These 3M protective face masks are designed with a convex shape, nose clip and twin straps to ensure an excellent fit over a wide range of face sizes.
These 3M dust masks have a comfortable, lightweight off-the-face design.
Maintenance free.
Conforms to standard EN149:2001 FFP2.